Everywhere in the world, wedding occasions take place every day. For that reason, wedding cakes will have to be used, and a better way must be designed so that the cakes can be arranged in an appealing manner. This stands are made in different shapes and also they can be made from different materials as well. This will require you to use a wedding cake stand. This article will explain to you some of this wedding cake stands that are known everywhere in the world.
Ultra turntable cake stand

This type of stand is designed in such a way that it can hold a cake with a diameter of 11 inches and leave a whole one inch for you to decollate your cake. It is also fitted with a rubber band on its surface so that the cake cannot slip from the stand hence avoiding an instance that can be shameful like the cake falling when you are cutting it. This stand also can rotate at an angle of 360 degree which is advantageous in that it makes it easy to decorate the cake.
Cupcake dessert stand

This type of stand is created with at least four tiers so that the mini cakes that are beautifully designed visible. The stand can hold up to 23 small cupcakes. The mini cake on the side of the main stand makes the cake look more attractive because of how they are arranged. The stand is also fitted with a chrome-plated material that prevents the stand from rusting and hence it can be used to make cakes for the future weddings.
Cupcake tree stand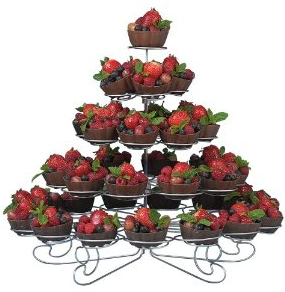 This type of cake stand is made from fiber board, and it is meant for one-time use only. It can hold up to 100 cup-shaped cakes. You can opt to use this type of cake stand if you are not planning to renew your wedding in future.